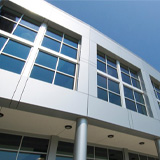 ACM, Rain screens, and a Sustainable Building Envelope

About the Sponsor
As one of the world's leading manufacturers of metal composite materials, ALPOLIC® carefully considers every detail of the manufacturing, distribution and sales process. Most of our products are manufactured in Chesapeake, VA, many with a substantial amount of post-consumer recycled materials. After fabrication, the MCM sheets are shipped to their destinations, ready to change the facade of structures around the world. Exceptional projects deserve exceptional materials. Demand ALPOLIC®.
Course questions/comments
(800) 422-7270
Gain insight into how rain screen systems contribute to the weatherability and sustainability of a building. Learn about the importance using sustainable materials for the system contribute to lower energy consumption, minimal impacts to the environment, and improving indoor environmental quality.
Learning Objectives:
Identify the purpose and function of MCM/ACM panels as well as how they help keep the building and occupants safe
Discuss the different types of MCM/ACM paint finishes in terms of application and performance (weatherability/durability) for a building envelope
Discuss testing and standards for aluminum substrate finishes and the three main quantitative performance measurements (gloss retention, color retention, chalking) that contribute to the longevity of a project
Explain proper installation of paint finished MCM/ACM panels in addition to other design considerations
Design Category (CSI Division):
(07) Thermal and Moisture Protection