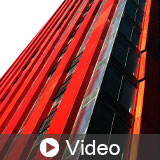 Advances in Metal Coatings: Powder Coatings - Update

About the Sponsor
Axalta Coating Systems is a leading global coatings company dedicated solely to the development, manufacture and sale of liquid and powder coatings. Axalta products increase durability, enhance productivity and add beauty. Innovative products and services include paint and powder, color matching tools, application technologies and customer training, support and business management systems.
Course questions/comments
(512) 673-7017
The goal of this course is to raise awareness about powder coating technology, its environmental benefits when compared to traditional metal coatings and highlight the advances in powder coatings in recent years.
Learning Objectives:
Explain the difference between powder coatings and conventional liquid coating systems as well as anodizing and list the possible applications of powder coatings
Identify the availability of colors and effects by the environment
Describe the importance of maintaining a coating system to ensure the integrity of the building and occupant safety
Express the environmental impact of selecting the right coating as well as the benefits to the building, installers, and occupant well-being
Discuss the environmental impact of volatile organic compounds and how they are minimized with powder coatings for a more sustainable building
Compare and contrast the environmental impact of anodizing with liquid and powder coating systems
Design Category (CSI Division):