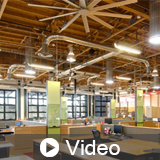 Aggressively Passive: Confronting the Comfort Status Quo

About the Sponsor
Big Ass Fan Company designs, engineers and manufactures the world's most efficient ceiling fans for industrial, agricultural, commercial and residential settings. Big Ass Fans range in size from 5- to 24-feet in diameter and pair energy efficient motors with advanced airfoil technology to circulate large volumes of air, providing occupant comfort and energy savings year round. There are more than 100,000 Big Ass Fans installed worldwide in applications such as manufacturing plants, distribution centers, horse arenas, dairy barns, stadiums, restaurants, schools, health clubs, hotels and homes.
Course questions/comments
(877) 244-3267
Following a video case study format, selected project team members from the DPR Phoenix Regional Headquarters tell their stories through a series of interviews, info-graphics, and building video tours. The DPR Phoenix Regional Headquarters achieved LEED Platinum certification under the LEED NC 2009 rating system, and received one of the first Net-Zero Energy certifications from the International Living Future Institute.
Learning Objectives:
Identify the integrated strategies the DPR project team used to reduce the building's electrical loads, such as elevated air speed, convective cooling principles, and evaporative cooling. (EAp2 and EAc1)
Explain "adaptive thermal approach" and the impact of thermal comfort through increased air movement (IEQ 7.1)
Describe how improved distribution of air increases the effectiveness of ventilation and comfort systems (IEQc2)
Discuss how occupant engagement and real-time feedback is a crucial component of achieving net-zero energy (EAc2)
List challenges and lessons learned, such as energy modeling for unconventional cooling systems (EAc1)
Design Category (CSI Division):
Course & Quiz Details:
10 Multiple Choice and True/False Questions
A score of 80% or higher is required to receive a certificate of completion