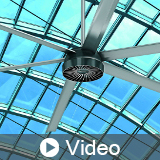 Be Cool: How Designers Can Improve Thermal Comfort with HVLS Fans

About the Sponsor
We invented the big industrial ceiling fan – also known as the High Volume, Low Speed (HVLS) fan – and have continued to be a leader in the market by developing the most innovative large fans in the world. We continually strive to push boundaries and set the bar when it comes to engineering and product development. The technology of our fans is based on the principle that moving air slowly is far more efficient than moving air quickly. MacroAir fans move air down and out in all directions. This keeps air fresh and helps people and animals feel more comfortable. Our product's are unparalleled in energy efficiency and airflow. They are assembled in the USA and installed worldwide. Customers benefit from local service and highly customized solutions from MacroAir's global distribution network.
Course questions/comments
1-866-668-3247
In this one-hour presentation, we explore how HVLS fans can contribute to LEED v4, increase thermal comfort, and provide a silent and elegant design strategy. We discuss how to save energy and improve indoor air quality for building occupants. The course reviews how computational fluid dynamics helps to measure airflow performance for energy savings. Finally, our team examines how HVLS fans benefited Los Angeles's largest indoor climbing facility.
Learning Objectives:
Discuss how continuous air movement positively affects thermal comfort and indoor air quality
Describe the energy efficiency strategy behind HVLS fans and how they can contribute to occupant comfort and LEED v4 BD+C IEQ Credit: Thermal Comfort
Define effective temperature and discuss how enhanced air movement strategies can contribute to LEED v4 BD+C IEQ Credit: Enhanced Indoor Air Quality Strategies
Review innovations in computational fluid dynamics to measure airflow performance and impact to a space and how HVLS fans can contribute to LEED v4 BD+C EQ Prerequisite: Minimum Energy Performance
Design Category (CSI Division):
Device Format:
Desktop/Laptop
Tablet
Phone
Course & Quiz Details:
10 Multiple Choice and True/False Questions
A score of 80% or higher is required to receive a certificate of completion