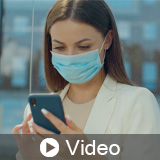 The COVID-19 Guide: Preparing For the Workplace

About the Sponsor
GreenCE's mission is to support the necessary transition to a sustainable built environment by empowering design professionals to address the environmental, economic, and social impacts of buildings. GreenCE's course catalog includes LEED exam preparation, continuing education to maintain your AIA or LEED credential, as well as specialty education focused on topics such as ADA/Barrier-Free requirements. We are committed to designing the highest quality continuing education programs in the construction industry.
Course questions/comments
(800) 248-6364
COVID-19 is a respiratory disease that has spread from China to many other countries around the world. The severity of COVID-19's international impacts has affected all aspects of daily life, including travel, trade, tourism, food supplies, and financial markets. In this course we review COVID-19 planning guidance based on traditional infection prevention and industrial hygiene practices. Our team discusses the need for employers to implement engineering, administrative, and work practice controls and personal protective equipment (PPE). The guide helps identify risk levels in workplace settings and to determine any appropriate control measures to implement.
Learning Objectives:
Discuss the symptoms of COVID-19 and how it can spread and provoke an outbreak in the workplace that endangers building occupants
Describe how to develop an infectious disease and preparedness and response plan to reduce building occupant's risk of exposure to SARS-CoV-2
Explain the hierarchy of controls and how they can be implemented to control workplace hazards that workers may encounter on site
Review COVID-19 resources such as OSHA programs, the AIA Re-occupancy Assessment Tool, and LEED Safety First Pilot Credits that can help reduce the risk of exposure to and transmission of COVID-19
Design Category (CSI Division):