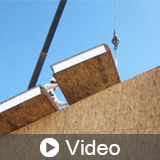 Commercial Design with Structural Insulated Panels

About the Sponsor
The Structural Insulated Panel Association (SIPA) is a non-profit trade association representing manufacturers, suppliers, fabricators/distributors, design professionals, and builders committed to providing quality structural insulated panels for all segments of the construction industry.
Course questions/comments
(253) 858-7472
This one-hour course will discuss the benefits of commercial building design with structural insulated panels (SIPs), including energy savings, waste minimization and other sustainable contributions. The designer will gain a better understanding of how to properly utilize SIPs.
Learning Objectives:
Discuss the basics of SIPs, including their composition, common engineering methods, applicable codes and standards, and how SIPs contribute to sustainable design
Identify the energy-efficient characteristics of SIPs and how they improve whole building energy efficiency
Describe the waste reducing and product life-cycle benefits of building with SIPs relative to traditional wood framing
Explain how SIPs contribute to better indoor air quality through a reduction in both air infiltration and interior off-gassing
Design Category (CSI Division):
(06) Wood, Plastics and Composites
Course & Quiz Details:
10 Multiple Choice and True/False Questions
A score of 80% or higher is required to receive a certificate of completion