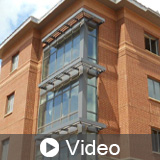 Daylighting by Design

About the Sponsor
The leader in extruded aluminum canopy, aluminum frame, store, hanger rod and custom canopy systems. Providing innovative environmental control through creative design, MASA Architectural Canopies represents an exciting approach to the pre-engineered building components market and is always pro-active to expand industry trends and designs. MASA's broad knowledge separates them from the cookie-cutter fabricators to an elite level of custom design and build manufacturers. From start to finish, design through installations, MASA provides superior execution required during each phase of your project to produce top-quality canopy systems. When quality counts, you can count on MASA.
Course questions/comments
(732) 453-6120 ext. 118
Natural light is an important part of any space, but being able to control the amount of light let in is beneficial for both aesthetic and environmental reasons. Join us as in this one-hour course as we discuss the benefits of a thoughtfully-designed light control system and how to make it work for your project's daylighting and shading needs. Design professionals will learn how to implement sun shade and canopy systems that create effective and aesthetically pleasing solutions in a variety of projects.
Learning Objectives:
Define daylighting and shading, emphasizing their health and wellness benefits for building occupants
Identify the environmental and financial benefits that are possible through incorporating sun shades and canopy systems with a building's exterior
Describe the manufacturing process of sun shades and canopy systems and how the materials and systems used create a durable, sustainable product
Illustrate the design potential of sun shades and canopy systems, including future technology that will increase their aesthetic and sustainable characteristics
Design Category (CSI Division):