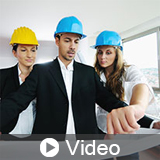 Don't Miss The Mark: Subfloor Construction Adhesives With Podium/Wrap Construction

About the Sponsor
Franklin International is among the largest privately held manufacturers of adhesives and sealants in the United States. We opened in 1935 as the Franklin Glue Company and today are known as Franklin International to reflect our global distribution across 60 countries on six continents around the globe. Our Construction Building Products division provides the Titebond brand of glues, adhesives and sealants for use in woodworking and all facets of residential and commercial construction. Franklin International employs approximately 400 in its laboratory, R&D center, sales/marketing offices and manufacturing facility, all located at its corporate headquarters in Columbus, Ohio. We are an American family-owned, U.S.-based company and our products sold in the U.S. are made in America.
Course questions/comments
(800) 877-4583
In this course we examine the differences between construction adhesives based on their core chemical makeup. We will compare and contrast VOC regulations and restrictions for indoor air versus those for outdoor air. We will also discuss the challenge for specifying adhesives posed by LEED v4 design restrictions. The presentation will compare the most commonly referenced subfloor adhesive performance specifications, identify their similarities and differences, and point out how lab conditions can differ from "real world" field conditions. The course will finally look at podium construction and the challenges created for adhesives due to varying manufactured wood based substrates and due to VOC restrictions.
NOTE: Participants need to read the supplemental PDF as part of the education course.
Learning Objectives:
Identify and contrast the primary construction adhesive base chemistry types in regards to; a) compatibility with various substrate materials; b) changes in temperature and; c) associated human health risks during application and bonding.
Examine the challenges for specifying adhesives posed by the LEED v4 IEQ Low-Emitting Materials Credit.
Compare how the Environmental Protection Agency and state laws address VOC related air quality issues for both indoor and outdoor uses.
Identify the challenges for specifying adhesives posed by fire rated wood framing systems and the use of fire-retardant-treated wood components required in portions of IBC Type III construction often used with "podium" construction.
Design Category (CSI Division):
Device Format:
Desktop/Laptop
Tablet
Phone
Course & Quiz Details:
10 Multiple Choice and True/False Questions
A score of 80% or higher is required to receive a certificate of completion