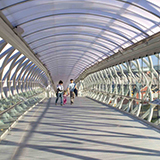 Dynamic Daylighting and Sun Control Systems

About the Sponsor
CPI Daylighting, a Kingspan Light + Air company, is an award-winning innovator of translucent daylighting technology for high-performance building envelopes – walls, skylights and canopies. Since the 1980s, we have remained committed to raising the standards for daylighting design. We team up with architects and designers to develop solutions that will enhance and optimize the role that natural light plays in the design of their buildings and inspire them to push the envelope. As expert problem-solvers, we leverage our knowledge and expertise to serve as the leading daylighting consultants for the architectural community and building industry.
Course questions/comments
847-816-1060
Through a review on daylighting, the benefits and the dilemas, this course will focus on best practices for incorporating daylighting into your designs as well as introduce you to new technoligies such as dynamic daylighting solutions and solar blade intelligent systems.
Learning Objectives:
Explain the design dilemma between introducing natural daylight and shading out unwanted solar heat and glare
Explain the dynamic daylighting strategy to design oversized systems with built-in shading technology
Describe the primary components of Solar Blade technology for a dynamic daylighting glazing panel
Describe the features of an intelligent dynamic daylighting system
Explain how dynamic daylighting has been incorporated into projects to solve design challenges
Explain how to maximize credits for your LEED project by incorporating dynamic day-lighting systems
Design Category (CSI Division):
(08) Doors, Windows and Openings
Course & Quiz Details:
10 Multiple Choice and True/False Questions
A score of 80% or higher is required to receive a certificate of completion