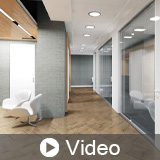 The Floor Is Yours: Safe and Innovative Luxury Vinyl Tile

About the Sponsor
LX Hausys America Inc. is a part of Korean-based LX Hausys Ltd., one of the world's leading providers of building and decorative materials employing more than 4,000 employees spanning the globe. Headquartered in Atlanta, Ga., LX Hausys America uses the industry's most advanced technology to design beautiful and functional spaces with sustainable products. LX Hausys America's business lines include surface materials, flooring, and automotive components.
Course questions/comments
(404)325-5208
Luxury vinyl flooring is a popular choice because it can emulate the aesthetics of wood or stone without the high cost and maintenance. However, research suggests that exposure to polyvinyl chloride (PVC) and phthalate plasticizers found in some vinyl flooring can have adverse health effects. Join us in this one-hour course as we discuss different types of luxury vinyl flooring, including criteria to look for when selecting products to ensure the safety of installers and future occupants. Design professionals will also learn about innovative technologies in the luxury vinyl field that increase the performance of products throughout their life cycle.
Learning Objectives:
Discuss adverse health effects that can result from exposure to polyvinyl chloride (PVC) and phthalate plasticizers found in some types of vinyl flooring
Identify criteria to look for when selecting luxury vinyl flooring products to ensure the safety of installers and future occupants
Define different types of luxury vinyl flooring and evaluate which suits the needs of your project accordingly
Illustrate new technology being used in luxury vinyl tile and explain how they increase the performance of products throughout their life cycle
Design Category (CSI Division):