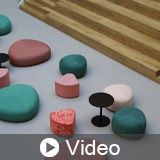 Get In On The Ground Floor: Modern, Sustainable Healthcare Flooring

About the Sponsor
Verduren is a fluid-applied, seamless resilient floor covering made with liquid cork particles. It is known for its durability, antimicrobial properties, and 100% all natural, Red List Free, non-toxic ingredients. With no seams, no plasticizers, and no PVC's, Verduren floors will last for decades, look great, feel great underfoot, all while supporting a sterile, hygienic environment that reduces HAI's. There truly is nothing else like it on the market!
Course questions/comments
925-915-0182
In this one-hour course, design professionals will gain in-depth knowledge of sustainable, resilient fluid-applied flooring. It will discuss how it solves many issues present in both resilient flooring and fluid-applied flooring by providing a sustainable, durable, cost-effective and seamless flooring without any harmful ingredients. By the end of this course, design professionals will be able to apply this new understanding to specify resilient fluid-applied flooring in a wide variety of applications to ensure a project's floors are safe and durable for years to come.
Learning Objectives:
Compare different forms of both resilient and fluid-applied floorings, focusing on each type's chemical composition, maintenance costs and waste, and lifespan performance
Identify common problems with resilient flooring and fluid-applied flooring, particularly issues pertaining to safety, environmental impact, and durability
Define fluid-applied resilient flooring and describe its manufacture, installation, and maintenance, as well as how it can meet different certifications and testing standards pertaining to sustainability and occupant health
Illustrate the many applications of fluid-applied resilient flooring and its benefits, including healthcare, education, community, and retail
Design Category (CSI Division):
Course & Quiz Details:
10 Multiple Choice and True/False Questions
A score of 80% or higher is required to receive a certificate of completion