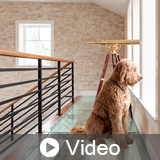 Glass Floor Walkways & Stair Treads

About the Sponsor
Innovative Building Products (IBP) is a wholly owned subsidiary of the ACME Brick Company. The IBP family of products includes the Fast Track Stone System, IBP Glass Block Grid System and GlassWalk Floor System. All IBP Systems are based on simplicity of installation thus resulting in long lasting, low maintenance products.
Course questions/comments
800-932-2263
Discuss how to design glass into walkways and stairs, the role glass walkways play in sustainable design, and what to consider during the design process.
Learning Objectives:
Identify how glass walkways can contribute to a more sustainable design
Define various types of glass and discuss their structural integrity, slip resistance and modesty
Discuss proper support methods + installation
Identify potential contributions to LEED™ certification
Design Category (CSI Division):
(08) Doors, Windows and Openings
Course & Quiz Details:
10 Multiple Choice and True/False Questions
A score of 80% or higher is required to receive a certificate of completion