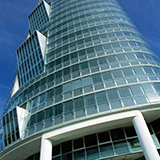 A Green Alternative to Surface Finishing "Powder Coating"

About the Sponsor
Decorative or Functional - Tiger Drylac provides Powder Coating Solutions for every Application! With the worlds largest selection of over 800 standard colors and finishes Tiger Drylac continues to be the leader in the Powder Coating Industry.As a vital part of their customer service program Tiger Drylac maintains and periodically updates an extensive library of datasheets and datasheet/colorchart combinations. Color previews in this section of their website provide an overview of standard products and will help narrow down the many choices. Please contact your nearest TIGER Drylac® office if you have questions, need brochures mailed to you or to receive actual powder coated sample panels in the colors of your choice.
Course questions/comments
(800) 243-8148
The design professional will become aware of the environmental and physical advantages of powder coating systems in order to knowledgably specify them in place of conventional liquid coating systems.
Learning Objectives:
Learn the basic of powder coatings and understand the difference between powder coating and liquid coating systems
Understand the total carbon footprint of architectural coating systems
Learn about the impact of coating film thickness on CO2 emissions
Understand how the longevity of a coating system impacts the environment
Design Category (CSI Division):
Course & Quiz Details:
10 Multiple Choice and True/False Questions
A score of 80% or higher is required to receive a certificate of completion