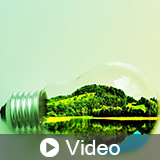 Green Lights: A Lighting Product Manufacturer's Roadmap to LEED v4

About the Sponsor
GreenCE's mission is to support the necessary transition to a sustainable built environment by empowering design professionals to address the environmental, economic, and social impacts of buildings. GreenCE's course catalog includes LEED exam preparation, continuing education to maintain your AIA or LEED credential, as well as specialty education focused on topics such as ADA/Barrier-Free requirements. We are committed to designing the highest quality continuing education programs in the construction industry.
Course questions/comments
(800) 248-6364
Lighting enables visual engagement with our built environment, with innovative manufacturers raising the performance bar ever higher. Join us in this course to evaluate how lighting products contribute to LEED v4 certification. We will review the program frameworks and most important LEED v4 credits, as they relate to lighting products, and identify steps that can be taken by the manufacturer to increase their products' contributions to these rating systems.
Learning Objectives:
Describe the purpose and structure of LEED v4
Assess how lighting products support achievement of LEED v4 credits, such as Sustainable Sites credit Light Pollution Reduction for LEED BD+C
List the LEED credits, including Energy and Atmosphere credit Optimize Energy Performance for LEED BD+C and ID+C related to lighting products for new and existing buildings and interiors
Determine what information is required to document individual LEED credits, such as Materials and Resources credit Building Product Disclosure and Optimization – Material Ingredients for LEED BD+C
Design Category (CSI Division):