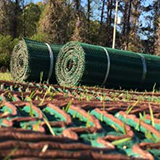 Green Solutions for Parking, Paving, and Drainage: Flexible Plastic Porous & Other Pervious Systems
About the Sponsor
Since 1982 Invisible Structures has been pioneering stormwater solutions. Thousands of customers have relied on us to achieve a variety of objectives from stormwater management to fire lanes to creating greenspace in lieu of concrete and asphalt. Our products are made in the USA from 100% recycled plastic and are ADA compliant. We offer grass and gravel porous paving, stormwater storage, erosion control systems, portable boardwalk systems and drainage systems. Our product line includes Grasspave2, Gravelpave2, Rainstore3, Slopetame3, Draincore2, and Beachrings2. We are committed to offering the strongest, most reliable products to sustain and enhance the environment.
For Course questions or for more information please contact us at 303.233.8383 or sales@invisiblestructures.com.
Course questions/comments
303.233.8383
This course will better inform the designer on the differences between dense and porous pavements. At the conclusion of this program the designer will understand the benefits and limitations of using porous pavement and how this type of paving system can contribute toward project LEED Certification.
Learning Objectives:
Explain the differences between dense and porous pavements
Discuss a brief history of the porous pavement industry
Detail both the benefits and limitations of using porous pavement over conventional paving systems
Identify the basic components of a paving system
Explain the benefits of flexible plastic paving systems
Analyze case studies of successful flexible porous pavement installations
Briefly discuss the required maintenance of various porous paving systems
Design Category (CSI Division):
Course & Quiz Details:
10 Multiple Choice and True/False Questions
A score of 80% or higher is required to receive a certificate of completion