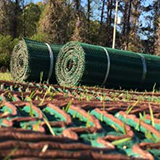 Green Solutions for Parking, Paving, and Drainage: Flexible Plastic Porous & Other Pervious Systems

About the Sponsor
Invisible Structures, Inc., has been in the stormwater management business since 1982 with our porous paving systems Grasspave2 and Gravelpave2, ring and grid structures for grass and gravel drivable surfaces. Large rolls sizes cover areas quickly while either protecting grass roots from compaction or containing small gravel to eliminate gravel migration. These products have extensive design brochures that cover all aspects from project photographs to latest technology and specifications.
Course questions/comments
(800) 233-1510
This course will better inform the designer on the differences between dense and porous pavements. At the conclusion of this program the designer will understand the benefits and limitations of using porous pavement and how this type of paving system can contribute toward project LEED Certification.
Learning Objectives:
Explain the differences between dense and porous pavements
Discuss a brief history of the porous pavement industry
Detail both the benefits and limitations of using porous pavement over conventional paving systems
Identify the basic components of a paving system
Explain the benefits of flexible plastic paving systems
Analyze case studies of successful flexible porous pavement installations
Briefly discuss the required maintenance of various porous paving systems
Design Category (CSI Division):
Course & Quiz Details:
10 Multiple Choice and True/False Questions
A score of 80% or higher is required to receive a certificate of completion