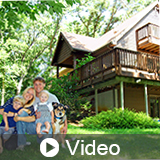 Off the Grid Part 1 - A Case Study

About the Sponsor
GreenCE's mission is to support the necessary transition to a sustainable built environment by empowering design professionals to address the environmental, economic, and social impacts of buildings. GreenCE's course catalog includes LEED exam preparation, continuing education to maintain your AIA or LEED credential, as well as specialty education focused on topics such as ADA/Barrier-Free requirements. We are committed to designing the highest quality continuing education programs in the construction industry.
Course questions/comments
(800) 248-6364
This one hour movie explores the design and construction of an off the grid house in remote Washington. We examine sustainable strategies, design team conflict, and rural vs. urban living. Can a family from urban Portland survive living off the grid with no running water, freezing temperatures, and the constant threat of forest fires and famine? Will the designer and contractor strangle each other or build the house? The course explores on-site renewable energy, rainwater harvesting, and renewable regional materials.
Learning Objectives:
Discuss the 2030 challenge and how it addresses climate change
Describe a net zero building and how it reduces energy consumption for users
List the benefits of wood products in this sustainable project
Compare and contrast urban and rural living and the dangers of living off the grid in a remote area
Discuss the design challenges associated with an off the grid project
Design Category (CSI Division):
Course & Quiz Details:
10 Multiple Choice and True/False Questions
A score of 80% or higher is required to receive a certificate of completion