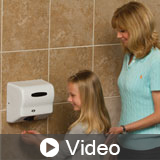 Hands Get Wet: Restroom Design with the End in Mind

About the Sponsor
Since 1952, American Dryer has been a leading manufacturer of hand dryers. Our guiding philosophy has led to the development of many industry innovations, capped by the new eXtremeAir hand dryer with patented Cold Plasma Clean technology. We are committed to American manufacturing, so our complete line of quality hand dryers are assembled in the USA and backed by the industry's premier same-day factory service.
Course questions/comments
(800) 485-7003
In this one hour course, the design professional will consider hand drying strategies used in various types of restrooms including schools, restaurants, stadiums, and more. We will assess multiple strategies, including electric hand dryers and the use of paper towels, and compare the life-cycle costs associated with each strategy under different usage scenarios.We conclude with an examination of the environmental and human benefits from the use of high performance hand dryers, including energy use, waste reduction, and acoustics.
Learning Objectives:
Evaluate hand drying strategies for typical restroom scenarios
Determine the costs, benefits, and return on investment from the use of various hand drying strategies
Identify the environmental and human health benefits associated with the use of hand dryers
Articulate how hand dryers contribute towards LEED credits in the LEED v4 rating system for Building Design and Construction (BD+C) and Interior Design and Construction (ID+C)
Design Category (CSI Division):
Device Format:
Desktop/Laptop
Tablet
Phone
Course & Quiz Details:
Hands Get Wet: Restroom Design with the End in Mind