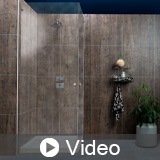 Impervious Elegance-How Waterproof Wall Panels Protect Spaces

About the Sponsor
Fibo started out quite modestly as a small factory for wall panels from Norwegian wood. It became our mission to develop the walls which made wet room challenges easy. Now Fibo is a leading supplier of high-quality, waterproof wall systems. Our wall panels are much easier to install, more affordable and more eco-friendly than ceramic tiles!
Course questions/comments
(925)413-6292
In this course, we explore how waterproof wall panel systems are used to provide a cost-effective, easy installed, low maintenance design solution for bathrooms and kitchens. We examine the benefits of waterproof wall panels over tile and how panels help prevent mildew and mold. Finally, we discuss how sustainable waterproof wall panels can contribute to LEED v4.1 projects.
Learning Objectives:
Discuss how waterproof wall panel systems provide a cost-effective, hygienic solution for bathrooms and kitchens
Evaluate the benefits of waterproof wall panel systems compared to tile including ease of installation, maintenance, transport, sustainability, and cost
Describe how waterproof wall panel systems help prevent mold and mildew and provide a healthy, high scratch, and impact resistant design option
Examine how sustainable waterproof wall panel systems with Health Product Declarations (HPDs) and Environmental Product Declarations (EPDs) can contribute to LEED v4.1 projects
Design Category (CSI Division):