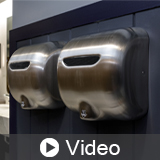 A More Transparent Shade of Green: Environmental Product Declarations (EPDs) Drive Restrooms to the Lead in Green Design

About the Sponsor
Excel Dryer, Inc. is a family-owned and operated small business that has been manufacturing the finest American-made hand dryers for over 50 years and the only ones that are Made In USA Certified®, featuring the original, patented, high-speed, energy-efficient XLERATOR® Hand Dryers. XLERATOR hand dryers patented technology completely dries hand three times faster (in 10-15 seconds) while using 80 percent less energy than conventional hand dryers. XLERATOR models represent a 95 percent (or more) cost savings when compared to paper towels and eliminate their maintenance and waste, while creating a more hygienic restroom environment. Excel's hand dryers were among the first to have Environmental Product Declarations (EPDs) and Health Product Declarations (HPDs) helping facilities qualify for the most LEED® Credits.
Course questions/comments
413.297.9377
Construction is going green. As both sustainability and efficiency advance in the built environment, architects, specifiers, and buyers are increasingly concerned with purchasing products that are environmentally friendly and can achieve project performance and client welfare goals. Architects and designers are, in essence, visionaries. This course explores options that architects and designers have when choosing products that accurately support and fuel their passion for possibilities while maintaining the health, safety, and welfare of the clients needs. Definition for PCRs, LCAs, and EPDs are discussed and various case studies are examined.
Learning Objectives:
Discuss how environmental product declarations (EPDs) allow for apples to apples comparisons of building products in terms of hygiene, welfare, and health performance
Explain how product category rules (PCRs) establish clear, consistent evaluation methods for building products as a means to help ensure and validate the environmental performance of buildings
Describe how PCRs, LCAs, and EPDs can be used together to assess and optimize the hygiene, health, and sustainability characteristics of high-performance restroom designs
Apply the information provided by environmental and efficiency standards when making product and welfare decisions
Design Category (CSI Division):