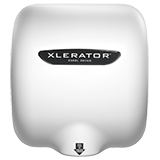 Next Generation Green Restroom Design v2

About the Sponsor
Excel Dryer, Inc., acquired by Denis Gagnon in 1997, manufactures the industry's finest quality American made hand dryers and hair dryers featuring the XLERATOR®, the New Industry Standard! XLERATOR hand dryers dry hands completely in 10 to 15 seconds and use 80 percent less energy than conventional dryers. XLERATOR represents a 95% cost savings versus paper towels and eliminates their maintenance while improving restroom hygiene. XLERATOR is the only hand dryer that is Made In USA Certified, the first to be GreenSpec® Listed and helps qualify for several LEED® Credits.
Course questions/comments
(888) 961-4254
An overview of how sustainable restroom design can address global concerns. Identify the newest technologies in high-efficiency restroom fixtures. Also, see in-depth analysis of how these products earn points toward LEED v4 credits and other green building standards to comply with new, best practices in green building.
Learning Objectives:
Recognize how green restroom design can help address the global need to conserve water, energy, and other natural resources within the built environment
Describe the environmental, health, and economic benefits of water-saving products and high-speed, energy-efficient hand dryers versus paper towels
Apply product selection strategies through the use of independent life cycle assessment studies to earn points toward LEED® v4 credits and other certifications
Determine the benefits realized by facilities that have adopted green restroom design and the use of water-saving products and high-speed, energy-efficient hand dryers through case study examples
Design Category (CSI Division):
Device Format:
Desktop/Laptop
Tablet
Phone
Course & Quiz Details:
10 Multiple Choice and True/False Questions
A score of 80% or higher is required to receive a certificate of completion