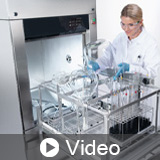 Smart & Sustainable: Laboratory Glassware Washers

About the Sponsor
Miele has been an independent family-owned company since its establishment in 1899 and is equally committed to its owners, employees, customers, suppliers, the environment and society. The company focus is on manufacturing domestic appliances for the kitchen, the laundry room and for floor care, as well as machines for use in commercial operations and medical facilities ("Miele Professional"). The strategic vision is to be the world's most trusted and desirable premium brand. Miele offers products to its customers that set the standards for durability, performance, ease of use, energy efficiency, design and service. This corresponds to the guiding principle "Immer besser" which the founders Carl Miele and Reinhard Zinkann printed on their first machines - and which characterises Miele to this day.
Course questions/comments
(609)851-0893
Glassware washers are a vital part of any laboratory. Join us in this one-hour course as we discuss how premium laboratory glassware washers can contribute to sustainability while continually delivering reliable results. Participants will learn what to consider when specifying glassware washers for laboratories, as well as how to identify sustainable manufacturers of such equipment.
Learning Objectives:
Explain how the features of laboratory glassware washers can contribute to sustainability, such as lower water and energy use, while continually providing analytically clean results
Recognize the standards and labels that define a laboratory glassware washer in terms of construction and sustainability
Discuss different installations for laboratory glassware washers based on workflow and use
Identify different actions and processes that sustainable manufacturers take to ensure their products and facilities are safe for both their employees and the environment
Design Category (CSI Division):