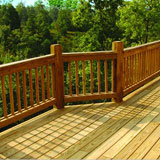 Southern Yellow Pine: Sustainability and Applications

About the Sponsor
Culpeper Wood Preservers is one of the largest producers of pressure treated lumber in the United States. A leading manufacturer of pressure treated products for the residential, commercial, industrial and marine markets that employs more than 350 people. Culpeper Wood Preservers' brand name products are sold exclusively through independent lumber dealers throughout the Mid-Atlantic, Northeast, Mid-West and South. They operate 10 plants strategically located in Virginia, Maryland, North Carolina, South Carolina and Indiana.
Course questions/comments
(800) 476-4401
This course describes Southern Yellow Pine's impact on building structures historically and today, listing its sustainable attributes and characteristics. This course also examines how the by-products and waste of SYP are reusable and compares the life cycle assessment of SYP to other building materials.
Learning Objectives:
Describe SYP's impact on building structures historically and today
List the sustainable attributes of Southern Yellow Pine
Examine how the by-products and waste of SYP are reusable
List the characteristics of Southern Yellow Pine
Compare the life cycle assessment of SYP to other building materials
Design Category (CSI Division):
(06) Wood, Plastics and Composites
Course & Quiz Details:
10 Multiple Choice and True/False Questions
A score of 80% or higher is required to receive a certificate of completion