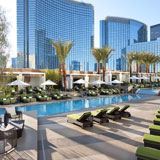 The Sustainability of Stainless Steel for Elevated Pools, Spas, and Water Feature Construction

About the Sponsor
Since 1982, Bradford Products has been the leader in the design and fabrication of high quality and custom stainless steel pools, hot tubs, SwimSpas, water features, thermal rooms, therapy and other custom specialty products. As the premier manufacturer and trusted experts in stainless steel fabrication, Bradford's world class products are featured in commercial facilities and homes throughout the United States and internationally. Bradford offers expertise in conceptual design, engineering, manufacturing and installation.
Course questions/comments
1.800.438.1669
This one hour course provides an overview of stainless steel pools, spas, and water features, with a close look at stainless steel and its performance characteristics, and the aspects of stainless steel pools that make them an environmentally friendly choice.
Learning Objectives:
Describe the alloys in stainless steel types 304 and 316, and explain how these alloys contribute to the durability of a stainless steel vessel
List four characteristics of stainless steel that lead to its contribution to sustainability
Describe the steps during the manufacture of stainless steel pools that ensure watertightness and longevity
List the reasons why stainless steel pools in high-rise construction are more operationally low-maintenance and durable
Design Category (CSI Division):
(13) Special Construction
Course & Quiz Details:
10 Multiple Choice and True/False Questions
A score of 80% or higher is required to receive a certificate of completion