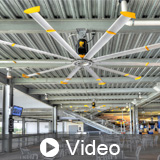 Sustainable HVAC Design: Using Air Movement in Air Conditioned Buildings

About the Sponsor
Starting in 1999, Big Ass Fans pioneered the high-volume, low-speed (HVLS) fan industry by introducing large industrial fans to agricultural spaces. Recognizing the fans' versatility, our customers began to install them in warehouses, factories, commercial spaces, and homes. With each new application, our engineers set out to design the perfect solution to meet our customers' needs. Our dedication to innovation has led us to develop the industry's first silent motor technology, smart fan controls and automation, and air disinfection technologies. For more information about Big Ass Fans, visit bigassfans.com, cleanairsystem.com, or call 1-877-BIG-FANS.
Course questions/comments
(877) 244-3267
The purpose of this presentation is to learn the principles of thermal comfort, heat transfer and the benefits of the innovative HVAC strategy that pairs traditional air conditioning with energy-efficient air movement.
Learning Objectives:
Identify the factors that affect thermal comfort
Explain the sustainability benefits of a design strategy that uses air movement in conjunction with traditional air conditioning
Describe how elevated air speed can improve building IAQ
Identify the factors that affect thermal comfort and the basics of ASHRAE Standard 55 requirements in LEED v4.1 BD+C
Understand how ASHRAE Standards 55 and 90.1 are applied in air conditioned spaces
Discuss how air movement can assist with meeting the energy performance requirements in LEED v4.1 BD+C and v4.1 O+M
Design Category (CSI Division):