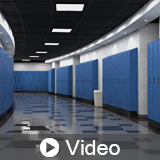 Sustainable Locker Materials and Solutions for Every Place and Purpose
About the Sponsor
Scranton Products well-known brands feature the most durable, low maintenance and best looking partitions, lockers and industrial sheet products in the industry. They won't dent, rust or need painting, and because they are colored throughout, delamination is not a factor.
Course questions/comments
(800) 445-5148
Through this one hour course, the design professional will learn about various material, configuration and hardware options for lockers and the different industries in which lockers are used. We will discuss how HDPE physical attributes, composition, and sustainability contributes to the design and construction of any sustainable project. The design professional will understand the role of responsible manufacturing in a product's life cycle assessment, and which LEED v4 credits can apply.
Learning Objectives:
Compare and contrast different material types for lockers in terms of their makeup, maintenance, life span, and sustainable benefits to occupants and the environment.
Define and describe the material characteristics of High Density Polyethylene (HDPE).
Identify different applications for HDPE plastic lockers and discuss design options that make them more user-friendly, ADA compliant, and aesthetically pleasing to end users based on those applications.
List several ways HDPE materials offer LEED credit through topics that include noise reduction, construction waste diversion and low emitting materials.
Explain how responsible manufacturing is a critical part of any product's life cycle assessment and give several examples of these environmental improvements over traditional manufacturing process.
Design Category (CSI Division):
Course & Quiz Details:
10 Multiple Choice and True/False Questions
A score of 80% or higher is required to receive a certificate of completion