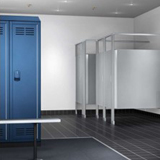 Sustainable Materials in Restrooms, Locker Rooms and Other Applications - Update

About the Sponsor
Scranton Products well-known brands feature the most durable, low maintenance and best looking partitions, lockers and industrial sheet products in the industry. They won't dent, rust or need painting, and because they are colored throughout, delamination is not a factor.
Course questions/comments
(800) 445-5148
Through a review of partition materials, this course will first introduce the varied options available for restrooms, locker rooms and other applications. We will then take a closer look at HDPE, it's physical attributes, composition, design options and sustainable contributions to the design and construction of any project including the incorporation of recycled content, indoor air quality and life cycle assessment. To provide a working understanding and larger context, this course will define and illustrate responsible manufacturing as an important part of any product's life cycle assessment. Learn how making good decisions through specification can contribute to both the improvement of our environment and your client's next project in this one hour online course. We will conclude this course with a brief 10 question quiz for assessment.
Learning Objectives:
Define and describe the material characteristics of High Density Polyethylene (HDPE)
Describe how HDPE recycled content reduces environmental impact
List several ways HDPE materials offer both initial and long term improvements to the indoor air quality of any project
Explain how responsible manufacturing is a critical part of any product's life cycle assessment and give several examples of these environmental improvements over traditional manufacturing processes
Design Category (CSI Division):