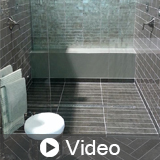 Sustainable Tile Installations: Using Membrane Technology

About the Sponsor
Founded in 1946, Noble Company manufactures premium-quality, innovative products for the Tile, Plumbing, Heating and Cooling, and Fire Sprinkler Industries. Noble Company product applications include waterproofing, crack prevention, and sound reduction under tile flooring. Noble Company is an American-based company, manufacturing products in Michigan and Louisiana.
Course questions/comments
(231) 799-8000
This course will overview of the types of membranes that can be used to protect and waterproof ceramic and stone tile installations. The course will compare performance and durability of membranes along with installation methods and variables. It will also provide participants with insight into the features required for demanding applications such as continuous use steam showers and exterior tiled decks.
Learning Objectives:
Describe relative standards and resources available to help you develop specifications that help ensure reliable performance
List the various types of membranes and delineate their composition, strengths, and weaknesses, including durability
Describe failure modes that occur, and how things like installation, scheduling, building movement, and performance issues like permeation rates can affect durability
Understand how different installation methods can affect project needs so that appropriate membranes and methods can be specified in order to help contribute to sustainability of the project
Describe how relevant products for wet area waterproofing can contribute to indoor environmental quality
Design Category (CSI Division):
Course & Quiz Details:
10 Multiple Choice and True/False Questions
A score of 80% or higher is required to receive a certificate of completion