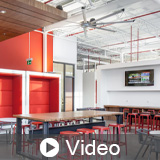 Thermal Comfort and Air Movement with HVLS Fans

About the Sponsor
Big Ass Fan Company designs, engineers and manufactures the world's most efficient ceiling fans for industrial, agricultural, commercial and residential settings. Big Ass Fans range in size from 5- to 24-feet in diameter and pair energy efficient motors with advanced airfoil technology to circulate large volumes of air, providing occupant comfort and energy savings year round. There are more than 100,000 Big Ass Fans installed worldwide in applications such as manufacturing plants, distribution centers, horse arenas, dairy barns, stadiums, restaurants, schools, health clubs, hotels and homes.
Course questions/comments
(877) 244-3267
In this course, we explore how HVLS Fans can contribute to thermal comfort, energy savings, and LEED v4.1. Our team explores the basics of ASHRAE Standard 55 requirements in LEED v4.1 BD+C. We discuss how air movement can assist with meeting the indoor air quality performance and energy performance requirements in LEED. Finally, we review how HVLS Fans can provide additional benefits for green building projects.
Learning Objectives:
Identify the factors that affect thermal comfort and the basics of ASHRAE Standard 55 requirements in LEED v4.1 BD+C
Discuss how air movement can assist with meeting the indoor air quality performance and energy performance requirements in LEED v4.1 BD+C and v4.1 O+M
Explain the use of elevated air speed for increased air distribution efficiency and energy savings within conditioned and unconditioned spaces
Understand stratification and the significant energy saving potential from destratifying a large open space
Describe the additional design benefits of using fans in Green Building projects
Design Category (CSI Division):
Course & Quiz Details:
10 Multiple Choice and True/False Questions
A score of 80% or higher is required to receive a certificate of completion