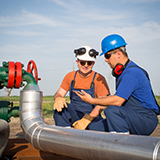 Thermal Energy Storage: A Vital Ingredient to a Low Carbon Future

About the Sponsor
CALMAC is transforming how energy is used at buildings to the time when energy is used. Widely recognized for promoting peak energy conservation and energy cost savings CALMAC is a member of the U.S. Green Building Council (USGBC). CALMAC is the manufacturer of IceBank® Energy Storage equipment, with over 4,000 Ice Storage installations in over 35 countries. IceBank systems are a valuable component of the smart grid, enabling energy, including renewable wind energy that mainly blows at night, to be efficiently stored for use during periods of high demand.
Course questions/comments
(201) 797-1511
This course will better inform the design professional about thermal energy storage and how it contributes to energy efficiency, cost savings, and environmental responsibility.
Learning Objectives:
Describe what energy storage is
List examples of different forms of energy storage
Describe how energy storage works
Describe why energy storage is needed to make new renewable generation sources more viable
Explain how thermal energy storage saves energy and money.
Explain how thermal storage may contribute towards a project earning LEED Certification
Explain how a building designer or developer may qualify for tax deductions
Design Category (CSI Division):
(23) Heating, Ventilating and Air Conditioning
Course & Quiz Details:
10 Multiple Choice and True/False Questions
A score of 80% or higher is required to receive a certificate of completion