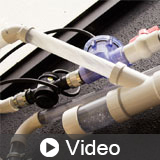 Vacuum Plumbing Drainage Systems for Buildings: Healthcare, Commercial & Industrial

About the Sponsor
AcornVac, Inc. designs, engineers, manufactures, and markets environmentally friendly plumbing and waste collection, conveyance and disposal systems. AcornVac has the expertise and knowledge to deliver a state-of-the-art, reliable, cost effective and versatile plumbing system that is engineered to fit most any building type for renovation and new construction projects.
Course questions/comments
800-591-9920
This course will help you learn more about the benefits of vacuum plumbing systems in healthcare, commercial and industrial environments including contributions to sustainability and occupant health.
Learning Objectives:
Explain how vacuum plumbing systems work (key components for an efficient operation).
Compare and contrast vacuum plumbing vs. gravity plumbing (sustainability, health and safety, cost, design and construction flexibility).
Discuss the environmental benefits of vacuum plumbing.
Explain application for vacuum plumbing as related to LEED certification.
Discuss infection prevention with vacuum plumbing.
Design Category (CSI Division):
Course & Quiz Details:
10 Multiple Choice and True/False Questions
A score of 80% or higher is required to receive a certificate of completion