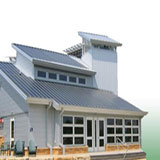 Providing Alternative Energy with BIPV Standing Seam Roofing

About the Sponsor
GreenCE's mission is to support the necessary transition to a sustainable built environment by empowering design professionals to address the environmental, economic, and social impacts of buildings. GreenCE's course catalog includes LEED exam preparation, continuing education to maintain your AIA or LEED credential, as well as specialty education focused on topics such as ADA/Barrier-Free requirements. We are committed to designing the highest quality continuing education programs in the construction industry.
Course questions/comments
(360) 727-3528
This course will help the designer to understand BIPV solar laminates and incorporate BIPVs into their designs with standing seam metal roofing systems. We will review how BIPVs can contribute towards a project earning LEED Certification through a discussion on key sustainable issues and the specification process.
Learning Objectives:
Identify at least two features of the BIPV standing seam solar laminates that allow the technology to be easily integrated with the building envelope
List the energy, economic, and environmental benefits of the technology behind BIPV systems
Explain how BIPV systems help architects bring on-site renewable energy to their projects with solar technology
Describe how BIPV solar laminate systems can contribute to LEED project certification
Specify a BIPV system
Design Category (CSI Division):
(07) Thermal and Moisture Protection
Course & Quiz Details:
10 Multiple Choice and True/False Questions
A score of 80% or higher is required to receive a certificate of completion