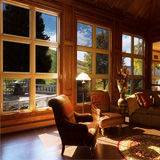 The Role Of Dynamic Glazing In Driving Human Productivity and Energy Efficient Buildings

About the Sponsor
RavenWindow™ tints automatically and within minutes with no controls, wires or electricity, preserving an uninterrupted connection to the outdoors and natural light. RavenWindow™ engineered a thermochromic filter that is incorporated into the window at the time of manufacture. This filter creates a cool and usable space when activated while maintaining a connection to the outdoors during even the hottest days. During cooler times, when the solar gain is desired, the filter remains clear, filling the space with desired warming rays.
Course questions/comments
(303) 984-7490
This course provides a review of the benefits of daylighting to occupant comfort, health and wellbeing with an emphasis on dynamic glazing. We compare different types of dynamic glazing technology and discuss how it contributes to energy efficiency and occupant comfort.
Learning Objectives:
Identify the benefits of daylighting and views in buildings to human health and productivity
Define dynamic glazing and explain how it works
Explain the improvements to energy performance, indoor environmental quality and LEED certification when incorporating dynamic glazing into a project
Describe how to evaluate and what to consider when specifying dynamic glazing
Design Category:
(08) Doors, Windows and Openings
Course & Quiz Details:
10 Multiple Choice and True/False Questions
A score of 80% or higher is required to receive a certificate of completion