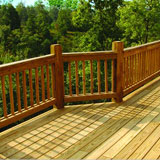 Southern Yellow Pine: Sustainability and Applications

About the Sponsor
Cox Wood, sustainability is responsibility when dealing with our impact on the environment as well as our role in society. At Cox we work every day to make ourselves as sustainable as possible. This includes our lean manufacturing, partner education programs, development of Energy Star certified products, AIA education courses, employee education development, local Habitat for Humanity projects, efficient use of energy, water and waste via the EPA's Wastewise program, plant certifications implemented for SFI & FSC certified wood and much more.
Course questions/comments
(800) 476-4401
This course describes Southern Yellow Pine's impact on building structures historically and today, listing its sustainable attributes and characteristics. This course also examines how the by-products and waste of SYP are reusable and compares the life cycle assessment of SYP to other building materials.
Learning Objectives:
Describe SYP's impact on building structures historically and today
List the sustainable attributes of Southern Yellow Pine
Examine how the by-products and waste of SYP are reusable
List the characteristics of Southern Yellow Pine
Compare the life cycle assessment of SYP to other building materials
Design Category:
(06) Wood, Plastics and Composites
Course & Quiz Details:
10 Multiple Choice and True/False Questions
A score of 80% or higher is required to receive a certificate of completion