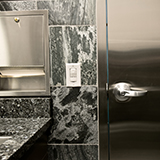 Steel: Green Now, Green Forever - Building With Recycled Materials

About the Sponsor
Steel Door Institute (SDI) was established in 1954 as a non-profit business association that develops standards for steel doors and frames. These standards are available free of charge so architects can ensure quality and consistency of steel doors and frames. SDI members are the only manufacturers that have been audited to ensure they meet our standards.
Course questions/comments
440-899-0010
Learn about the sustainable advantages of building with steel. Discover how specifying steel can contribute to LEED credits as well as compliance with International Green Construction Code (IgCC) requirements.
Learning Objectives:
Explain basic steel production, the role of recycled steel in this process, and the environmental benefits
Describe construction products made from recycled steel and the advantages of steel construction,including doors and frames
Discuss the features and applications of steel doors and frames
List LEED credits available when building with steel
Describe the integration of the International Green Construction Code (IGCC)
Design Category:
(08) Doors, Windows and Openings
10 Multiple Choice and True/False Questions
A score of 80% or higher is required to receive a certificate of completion