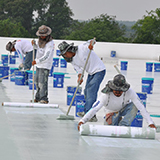 Sustainable Leak-Free Roof Systems

About the Sponsor
Founded in 1886, GAF is the largest roofing manufacturer in North America. As the industry leader with over $3 billion in sales, GAF proudly offers a comprehensive portfolio of award-winning, innovative roofing products for both steep-slope and commercial properties. Supported by an extensive national network of factory-certified contractors, GAF has built its reputation — and its success — on its steadfast commitment to Advanced Quality, Industry Expertise, Simple Solutions, and helping commercial property owners and designers reduce energy consumption.
Course questions/comments
(877) 423-7663
In this one hour course, we will define the key attributes of sustainable roofing within a long-term design view. We will learn about sustainable roofing benefits, including extended roof life and reduced heat island effect. Through case studies, we will explore fluid-applied roof systems. We will access applications and installations of sustainable roofs in terms of best practices, performance and contribution to a sustainable built environment.
Learning Objectives:
Name the key attributes of Sustainable Roofing
Summarize the benefits of Sustainable Roofing within a long-term design view
Understand the features and benefits of Fluid-Applied Roof Systems
Identify the different types of Fluid-Applied Roof Systems
Design Category:
(07) Thermal and Moisture Protection
10 Multiple Choice and True/False Questions
A score of 80% or higher is required to receive a certificate of completion