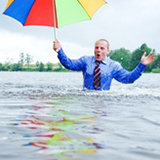 Don't Get Soaked: Smart Strategies to Manage Rainwater

About the Sponsor
GreenCE's mission is to support the necessary transition to a sustainable built environment by empowering design professionals to address the environmental, economic, and social impacts of buildings. GreenCE's course catalog includes LEED exam preparation, continuing education to maintain your AIA or LEED credential, as well as specialty education focused on topics such as ADA/Barrier-Free requirements. We are committed to designing the highest quality continuing education programs in the construction industry.
Course questions/comments
(800) 248-6364
Through a series of interviews and real life case studies by the City of Portland, we explore how rainwater management is crucial to prevent erosion, pollutants to streams, and damaging wildlife habitat. Our team describes the step-by-step process to achieve the Rainwater Management credit utilizing green infrastructure and low-impact development.
Learning Objectives:
Explain how to achieve the Rainwater Management credit in LEED using the percentile approach - in O+M and Option 1 in BD+C and avoid pollution and erosion problems
Describe green infrastructure (GI) and low-impact development (LID) rainwater management strategies and how they can prevent flooding onsite
Define percentile rainfall event
Review strategies to evaluate performance of rainwater management practices, using freely available online tools
Course & Quiz Details:
10 Multiple Choice and True/False Questions
A score of 80% or higher is required to receive a certificate of completion