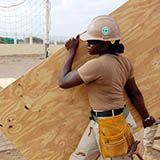 LEED Tips and Tools for Subs and Suppliers

About the Sponsor
GreenCE's mission is to support the necessary transition to a sustainable built environment by empowering design professionals to address the environmental, economic, and social impacts of buildings. GreenCE's course catalog includes LEED exam preparation, continuing education to maintain your AIA or LEED credential, as well as specialty education focused on topics such as ADA/Barrier-Free requirements. We are committed to designing the highest quality continuing education programs in the construction industry.
Course questions/comments
(800) 248-6364
Join us for this 1-hour course to explore the role of subcontractors and suppliers within the LEED process. Review documentation responsibilities, and conclude with proven strategies to help you bid LEED projects.
Learning Objectives:
Give examples for areas of concern while bidding including cost and production impacts
Discuss the Master Format divisions which contribute to LEED including division 01 57 20 - Environmental Protection
Define basic LEED requirements
Summarize sources of information submitted for LEED such as VOC and formaldehyde contents which can affect occupants
Course & Quiz Details:
10 Multiple Choice and True/False Questions
A score of 80% or higher is required to receive a certificate of completion