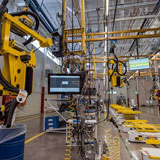 Innovation in Water Heating Equipment Technology Manufacturing Tour

About the Provider
Rheem Commercial Water brings together our family of brands to offer a comprehensive product portfolio designed to meet the water heating needs of any commercial project. Backed by a team of experts, providing personalized service including consulting, training, sizing, and technical assistance to ensure timely support when customers need it most.
Learning Objectives:
Explore a century of advancements in water heating efficiency with a focus on the effort to resolve heat loss that has resulted in achieving 97% of generated heat use.
Assess the operation, flow rates, scale, maintenance and longevity of water tube & fire tube boilers.
Identify the types of materials used in manufacturing highly efficient and durable Heat Exchangers that protects against corrosion and other chemicals.
Examine the ASME Testing process from pressurization, inspection, and re-testing that contribute to gas and heat pump product's quality, durability, and other safety issues.
Investigate manufacturing methods used to minimize waste and help improve efficiency while observing the facility's sustainable practices aimed at minimal CO2 impact.