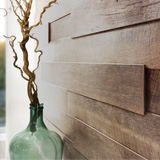 Sustainable Surroundings: How Wood Products Reduce Carbon, Protect Human Health, and Inspire Designers

About the Provider
Kronospan LLC manufactures and distributes wood-based panels. The Company offers products such as melamine-faced and lacquered panels, chemicals, worktops and window sills, wall and ceiling, paper, flooring, and betonyp building boards. Kronospan serves customers worldwide.
Learning Objectives:
Discuss sustainable forestry practices including FSC certification and how it can improve sustainability, social equity, economic prosperity, and contribute to the LEED rating system.
Describe how wood-based products integrate into a circular economy and can reduce embodied carbon, protect human and ecological health, and advance LEED initiatives.
Examine how renewable wood-based products can help reduce the negative effects of carbon in the atmosphere and help protect the environment.
Review various wood-based products such as wall panels, flooring, OSB, HPL, MDF, TFL, and other products can help design professionals create sustainable spaces for occupants.
Design Category:
(06) Wood, Plastics and Composites