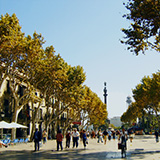 Sustainable Streets: Creating Livable Communities

About the Sponsor
Founded in 1886, GAF is the largest roofing manufacturer in North America. As the industry leader with over $3 billion in sales, GAF proudly offers a comprehensive portfolio of award-winning, innovative roofing products for both steep-slope and commercial properties. Supported by an extensive national network of factory-certified contractors, GAF has built its reputation — and its success — on its steadfast commitment to Advanced Quality, Industry Expertise, Simple Solutions, and helping commercial property owners and designers reduce energy consumption.
Course questions/comments
(877) 423-7663
Learning Objectives:
List the 5 components of sustainable streets.
Describe the 3 considerations for choosing pavements: Recyclability, Carbon Footprint, Heat Island Effect.
Explain strategies for mitigating heat island effect.
Express how pavement fits into different green building rating systems and environmental concerns including VOCs, Energy, LEED, and Greenroads.
Describe different traffic calming methodologies and explain the final solution to meeting these goals.
Give examples on how walking path and pavement design can bring communities together to create a move livable environment and a better quality neighborhood.
Illustrate NYC's Sustainable Streets Plan and describe how this is helping to create a better pedestrian and cyclist environment in an urban setting.
Design Category:
(32) Exterior Improvements