Product Transparency and Specification – A Guide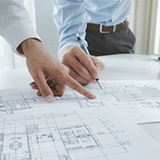 Date:
Monday September 10, 2018 12:00 pm 12:30 pm EDT
Environmental impact and material health are performance criteria, now part of 'high performance' building. Specification decisions for green building projects are increasingly being made based on whether or not products have transparency documentation.
That's why Ron Blank & Associates, GreenCE and Sustainable Minds are collaborating to help manufacturers move successfully through the process of:
1. Creating product transparency documentation
2. Marketing those products with transparency documentation
3. Getting them selected and specified
4. Education and training in every stage along the way. Everyone must be knowledgeable about what this all means and why it's important.
Join us to learn from the industry's top education, specification and product transparency experts on what it takes to get specified on LEED v4, Living Building Challenge, Well, CHPS and BREEAM projects.
In this one-hour presentation we will discuss best practices for:
• How environmental and material ingredient transparency documentation helps design professionals specify your products
• How to create the range of product transparency documentation (PCR, EPD, HPD, Declare, etc…)
• How the Sustainable Minds Transparency Catalog helps your company build a credibly greener brand by making it easy for reps and AECs to find, select and specify your products
• How to build brand awareness & generate leads via AIA and GBI continuing education