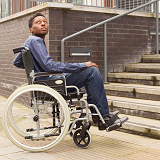 2010 ADA Standards for Accessible Design: What You Need To Know

About the Sponsor
Course Author:
Mark Jackson, Accessibility Consultant is an International Code Council (ICC) Certified Accessibility Inspector/Plans Examiner with specialized expertise in the accessible design and construction requirements of federal, state and local laws and codes, including the Americans with Disabilities Act (ADA). Jackson routinely provides accessibility services and training to key players in the building industry. He is an adjunct instructor at New York University and the Pratt Institute, New York, NY.
Course questions/comments
(203) 857-0200
On September 15, 2010, the Department of Justice published updated Title II and III ADA regulations and adopted the 2010 ADA Standards for Accessible Design. This one hour session will address substantive changes to the regulations and design criteria which became effective on March 15, 2011 and are enforceable as of March 15, 2012. The presentation will review the extent to which new construction and alteration of facilities covered under Titles II and III of the ADA is affected by the updated regulations and new standards, including an overview of the major changes in the scoping and technical provisions.
Learning Objectives:
Review the Federal Accessibility Laws and the Americans with Disabilities Act
List major scoping and technical changes within the new 2010 ADA standards
Describe the new 2010 ADA standards
Compare the new 2010 ADA standards to the 1991 ADA Accessibility Guidelines