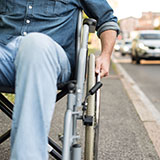 Accessible Routes

About the Sponsor
GreenCE's mission is to support the necessary transition to a sustainable built environment by empowering design professionals to address the environmental, economic, and social impacts of buildings. GreenCE's course catalog includes LEED exam preparation, continuing education to maintain your AIA or LEED credential, as well as specialty education focused on topics such as ADA/Barrier-Free requirements. We are committed to designing the highest quality continuing education programs in the construction industry.
Course questions/comments
(800) 248-6364
ADAAG uses several terms to describe different types of pedestrian routes or paths through a given facility. These include: Circulation Path, Accessible Route, Path of Travel and Accessible Path of Travel. Accessibility is not limited to buildings; it is an extension of the route to the site and circulation through the site and buildings. In this course, we will review and discuss the design requirements of accessible routes.
Learning Objectives:
Distinguish between accessible and non accessible routes through the site and it's buildings and features.
Knowledgably integrate comprehensive planning and design at the beginning of a project that will extend through the site and facility.
Describe how accessible routes will improve the experience and independence of the user throughout the site and facility and improve the quality of life.
List current ADA requirements and show compliance for technically feasible guidelines