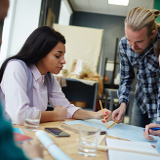 Better Building Materials: Part 2

About the Sponsor
GreenCE's mission is to support the necessary transition to a sustainable built environment by empowering design professionals to address the environmental, economic, and social impacts of buildings. GreenCE's course catalog includes LEED exam preparation, continuing education to maintain your AIA or LEED credential, as well as specialty education focused on topics such as ADA/Barrier-Free requirements. We are committed to designing the highest quality continuing education programs in the construction industry.
Course questions/comments
(800) 248-6364
Materials make the built environment possible, and collectively, the effects of millions of materials choices have massive consequences for the ecosystem and human health at local, regional, and global scales. Selecting materials with desirable human health and environmental attributes that deliver comparable or improved function, durability, and maintainability—has always been an important component of green building.
LEED v4 aims to accelerate the process to reorient materials design and selection
from a reactive approach that addresses problems as they arise to a proactive approach that encourages safer life cycle design and product specification.
During this course, we will explore how LEED v4 approaches the health and environmental impacts of materials. In addition, we will discuss how specifying building materials has become more complex for projects. Our team will review the connections between building materials and environmental impacts. And finally, we will discuss how building material substances and ingredients can affect human health.
Learning Objectives:
Explain how LEED v4 approaches the health and environmental impacts of materials
Articulate how materials decisions have become more complex for projects
Describe the connections between building materials and environmental impacts
Discuss how certain substances affect human health