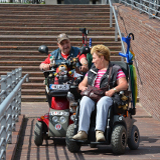 CYA in CA: Covering Your ADA - Parking Spaces

About the Sponsor
The McIntosh Group LLC provides accessibility consulting services and audits for building and business owners nationally. We are licensed architects in all 50 states, Puerto Rico and the District of Columbia. We have experience with a variety of building types including Retail, Convenience, Banks, Hospitality, Restaurants, Movie Theaters, Residential and Office. We have extensive experience dealing with the ADA Title III, ANSI and state-specific accessibility overlays including California, Texas, Florida, Illinois, Georgia and Arizona.
Course questions/comments
(918) 585-8555
During this education course, we will provide a comprehensive review of California disability access requirements as they relate to parking. We will learn how to determine parking areas so they meet compliance. In addition, the course will teach participants how to calculate the number of accessible parking spaces required for a project. Finally, we will review #1 cause of ADA lawsuits and how to design for success. Great course for TX architects as well.
Learning Objectives:
Provide in depth review of parking according to the ADA
Learn how to determine parking areas
Learn how to calculate the number of accessible parking spaces required
Learn about the #1 cause of ADA lawsuits and how to design for success