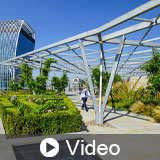 Confluence III: Match the Mission - Decipher the New Green Building Certification Landscape - Update

About the Sponsor
T. Stern Sustainability LLC is a Seattle-based firm that delivers tailored green building solutions, suited to an organization's brand, mission and pro-forma needs. Teresa's collaborative approach helps client teams to integrate sustainable design and operations measures that boost performance and reduce the total cost of ownership, manage the LEED process, create, coach and expand internal green teams. T. Stern Sustainability also helps clients share success via case studies, signage & web content.
Course questions/comments
(206) 618-1845
Building owners are often faced with a difficult decision when given the chance to pursue certification for their new or existing buildings. Even once the decision is made to certify, it can be overwhelming to evaluate all the different types of rating systems to determine which one is most appropriate given the cost limitations, expertise of the project team, and owner's motivation to pursue sustainability in the first place. Join us in this one-hour course to explore many of the most popular rating systems, including LEED, Green Globes, WELL and others. We will assess their relative strengths and weaknesses and teach you how to navigate this ever-changing landscape of options so that you can confidently guide your clients in the right direction when making this important decision.
Learning Objectives:
Describe the evolution of green rating and reporting systems and how can inter-connect.
Identify the scope & relationships between LEED, WELL, SITES and other national & local rating systems
Explain the benefits of using rating systems
Determine the use of rating system as critical design, construction, operations & marketing tool
Course & Quiz Details:
10 Multiple Choice and True/False Questions
A score of 80% or higher is required to receive a certificate of completion