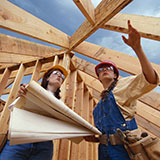 LEED for Contractors: Credit Responsibilities: Part I – Sustainable Sites and Indoor Environmental Quality

About the Sponsor
GreenCE's mission is to support the necessary transition to a sustainable built environment by empowering design professionals to address the environmental, economic, and social impacts of buildings. GreenCE's course catalog includes LEED exam preparation, continuing education to maintain your AIA or LEED credential, as well as specialty education focused on topics such as ADA/Barrier-Free requirements. We are committed to designing the highest quality continuing education programs in the construction industry.
Course questions/comments
(800) 248-6364
Get to know the roles and responsibilities of the contractor for Sustainable Sites (SS) and Indoor Environmental Quality (IEQ) credits in this 1.5 hour audio course. We will review which SS and IEQ credits have primary responsibility with the contractor, provide a step-by-step action list for each credit, and share valuable tools for documenting and tracking. The course features hands-on LEED Online template tutorials, and helpful tips for implementation, tracking and documentation throughout.
Learning Objectives:
Describe specific LEED credits the Contractor is responsible for in the Sustainable Sites (SS) and Indoor Environmental Quality (IEQ) categories and how they affect human health
List the LEED SS and IEQ credits in which Contractor support is necessary
List the LEED SS and IEQ credits in which Contractor support is necessary and discuss how LEED SS can improve the ecosystem
Identify which of the LEED SS and IEQ credits are out of the Contractor's control and how they could negatively affect site and project
Implement strategies to meet the LEED requirements for SS and IEQ
Implement strategies to meet the LEED requirements for SS and IEQ; Identify real world exampoles of LEED implementation that have resulted in failure and should be avoided
Course & Quiz Details:
10 Multiple Choice and True/False Questions
A score of 80% or higher is required to receive a certificate of completion