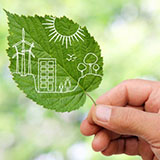 LEED v4: Energy-Efficiency from Building to Site and Beyond

About the Sponsor
T. Stern Sustainability LLC is a Seattle-based firm that delivers tailored green building solutions, suited to an organization's brand, mission and pro-forma needs. Teresa's collaborative approach helps client teams to integrate sustainable design and operations measures that boost performance and reduce the total cost of ownership, manage the LEED process, create, coach and expand internal green teams. T. Stern Sustainability also helps clients share success via case studies, signage & web content.
Course questions/comments
(206) 618-1845
This course will help you understand and navigate the new energy landscape in v4, focusing on BD+C New Construction & Major Renovations. We'll discuss the science behind the new Impact Categories, and how they translate to Energy related credit weighting and point distribution. Learn about specific LEED credits and changes, including the new metering prerequisite and adoption of ASHRAE 90.1-2010, and energy impacts in the new category Location and Transportation. We'll connect this to the latest industry findings and a look at the evolving project strategies, tools, methods and resources that can help you boost energy savings on your next project!
Learning Objectives:
Place energy in the context of building environmental impacts and current science
Describe the economic potential of energy efficiency
Understand the weighting of energy across LEED categories & credits
Select design methods that achieve higher utility savings and improve LEED performance
Course & Quiz Details:
10 Multiple Choice and True/False Questions
A score of 80% or higher is required to receive a certificate of completion