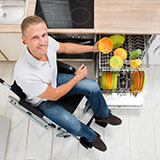 The ADA in 2013 and Beyond: What Architects and Engineers Need to Know

About the Sponsor
The McIntosh Group LLC provides accessibility consulting services and audits for building and business owners nationally. We are licensed architects in all 50 states, Puerto Rico and the District of Columbia. We have experience with a variety of building types including Retail, Convenience, Banks, Hospitality, Restaurants, Movie Theaters, Residential and Office. We have extensive experience dealing with the ADA Title III, ANSI and state-specific accessibility overlays including California, Texas, Florida, Illinois, Georgia and Arizona.
Course questions/comments
(918) 585-8555
The requirements of the Americans with Disabilities Act (ADA) Standards are detailed and can be overwhelming to interpret. This session is designed to help you understand how they directly affect architects and engineers. We'll break down the ADA Standards into easy to digest nuggets and give you a glimpse behind the scenes of ADA compliance.
Learning Objectives:
Understand key definitions in the ADA
Learn the tricks of the profession for compliance
Learn how to help contractors be successful
Learn the most commonly misunderstood elements
Course & Quiz Details:
10 Multiple Choice and True/False Questions
A score of 80% or higher is required to receive a certificate of completion