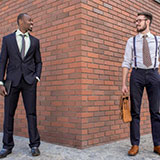 Breaking Barriers: Social Equity Within the Community and Supply Chain

About the Sponsor
GreenCE's mission is to support the necessary transition to a sustainable built environment by empowering design professionals to address the environmental, economic, and social impacts of buildings. GreenCE's course catalog includes LEED exam preparation, continuing education to maintain your AIA or LEED credential, as well as specialty education focused on topics such as ADA/Barrier-Free requirements. We are committed to designing the highest quality continuing education programs in the construction industry.
Course questions/comments
(800) 248-6364
In this course, the participant will discover how to address social equity within the community and supply chain as it applies to LEED Social Equity Pilot Credits. We will discuss ways to think about social equity as it relates to the sourcing of building products and how the project can help address the concerns of diverse, and often underserved, communities. The course details the intent and requirements of the community and supply chain pilot credits, providing a straightforward methodology to assess and document achievement of these often overlooked concerns.
Learning Objectives:
Identify the intent and requirements of LEED BD+C pilot credits: Social Equity Within the Community and Social Equity Within the Supply Chain
Discuss the social equity impacts and opportunities represented by building design and construction
Examine tools to create a supplier assessment so that social equity considerations can inform product selection for LEED projects
Describe the purpose of the SEED Evaluator, and utilize this resource to assess community impacts of LEED building projects
Course & Quiz Details:
10 Multiple Choice and True/False Questions
A score of 80% or higher is required to receive a certificate of completion